Are you fed up with musty gym clothes and smelly shoes stinking up the place? Not to forget the effort it takes to get them clean and fresh again?
Washing sportswear with extra detergent helps but is time and energy consuming. Also, until you get to it, that ever increasing pile stale clothes is still there emitting its pungent scent.
And spraying stinky work boots and running shoes only helps so much.
The StinkBOSS Shoe Deodorizer, Ozone Sanitizer and Dryer is designed to solve lift all these burdens from your shoulders by tackling the problem at its core.
And it does more.
Here are four reasons to buy the StinkBOSS.
4 StinkBOSS Benefits
---
1. It uses ozone…
..which has 2 purposes:
Ozone is a powerful antimicrobial agent. In other words, the StinkBOSS utilizes ozone to kill off those foul odor-causing bacteria, but also viruses, and fungi. These are the microscopic buggers that cause your feet, socks and shoes to stink, the itchy patches called Athlethe's foot, and other unwanted conditions.
Ozone is a potent odor remover. Commonly used by fire restoration companies, in air purifiers in casinos, by car cleaners to freshen up car interiors, by municipal water purification companies and more.
So instead of masking foul odors this innovative gadget takes away the source AND it removes odors themselves. By penetrating your gear with ozone molecules it disinfects and deodorizes.
2. It's a dryer
In addition it functions as a dryer too.  Toss your wet gloves, damp hat, sweaty ski socks, rainy jacket, slippery boxing gloves, or moist shoes and set a timer.
Bacteria thrive in humid environments. Take away these conditions and you are tackling the odor problem at its source.
3. It's convenient
No more stuffing balled up newspapers in wet boots. No more drying your mittens on the radiator.
No more dabbing stuffy gear with hydrogen peroxide, sprinkling basketball shoes with rubbing alcohol or rinsing with vinegar and hanging out to air dry afterwards.
Just insert your smelly gear and switch the device on. Optionally set a timer and that's it.
4. No additional costs
If you use sprays to deodorize your running shoes you will need to get new flasks once in a while. In a family with several sporting or hard working members this can add up fairly quickly.
Once you have introduced the StinkBOSS to your home you're good to go. There's  no additional costs after initial purchase for filters or cartridges or anything.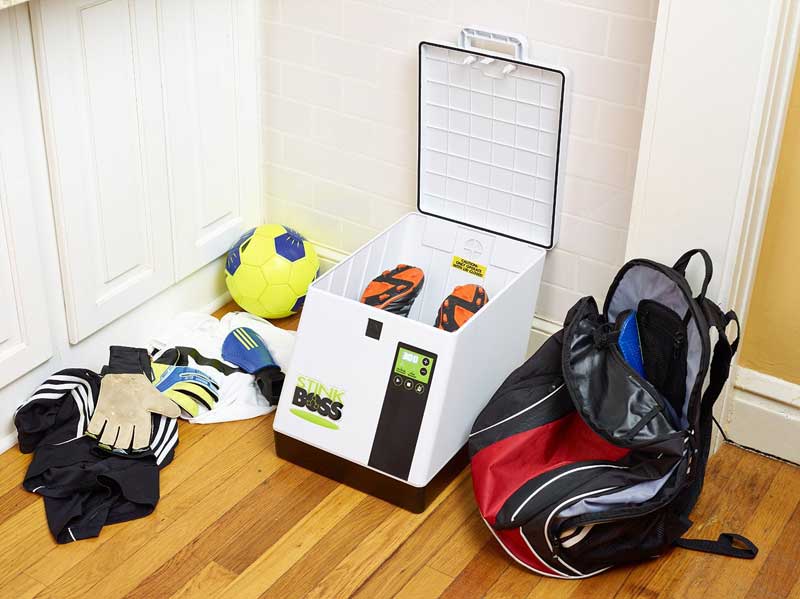 Is ozone safe to breathe in?
A legit question. You may have heard about home humidifiers emitting ozone to the room and how the EPA discourages using such devices.
In this case however, literally in this case, the ozone is contained. As long as you keep the lid closed while it's running it's completely safe.
What's more is that the StinkBOSS complies with exposure limits to ozone set by the  EPA, OSHA; NIOSH; and the FDA.
Can ozone harm my leather shoes or canvas sports bag?
It's true that leather car interiors have been damaged by ozone but this was under extreme circumstances so don't let this put you off.
Typically, leather will only start to dry out after an extremely high ozone concentration exposure for up to 8 hours on end.
Even if you tried you probably couldn't damage your apparel with this sanitizer.
Why get the StinkBOSS Shoe Deodorizer, Ozone Sanitizer and Dryer?
It saves you from embarrassment when you arrive at the gym with musty tracksuit or yoga pants packed in your bag.
If you or a family member has smelly feet, this device offers the one of the most easy to use and effective ways of disinfecting footwear.
If there are one or more family members playing sports in your home, the StinkBOSS let's you save time (and perhaps money in the long run) you would otherwise spend on freshing up athletic gear by hand (or just tossing them out on the porch).
It let's you dry shoes and boots that have become wet due to foot perspiration. Its this residual sweat that causes bacteria to proliferate, thus making your foot odor problem worse over time.
Click here to order or read more StinkBOSS reviews.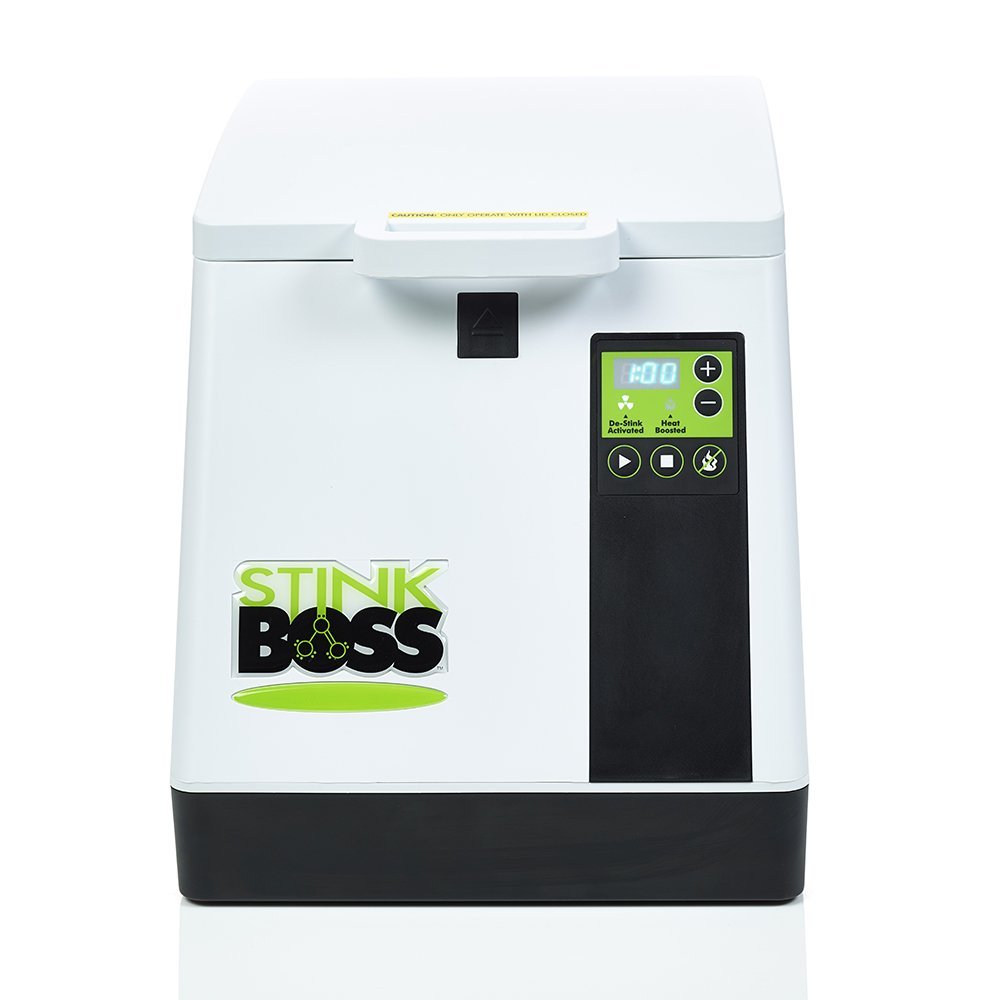 More shoe sanitizers here: